SASE Without Overlay Network
Companies with limited IT budgets and personnel can now get the same cybersecurity protection as big enterprises. Roqos' SASE solution with SD-WAN and ZTNA provides enterprise-grade comprehensive cybersecurity so that companies can focus on their businesses.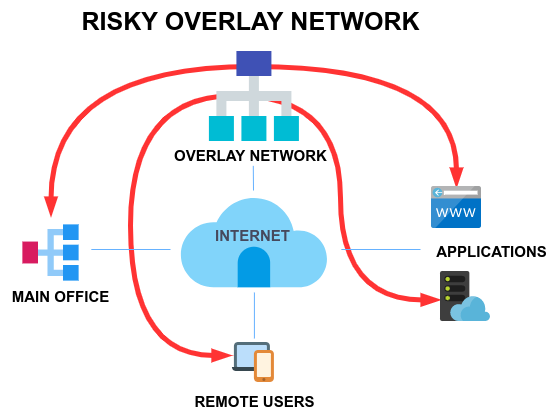 Today's SASE networks are not capable of making direct connections among sites. Instead, they carry all of the traffic to their overlay networks located in their datacenters or in a public cloud. While they claim their SASE solution is the VPN killer, they in fact use VPN to carry customers' traffic to their networks. Overlay networks are full of risks for companies, because:
Closed and limited threat intelligence and hunting.
They create additional latency.
They may limit networks with their available bandwidth.
They introduce a new point of failure.
Companies lose control of their networks.
As all of the data goes through their network, there is a privacy risk.
Thanks to Roqos' patented OmniVPN® technology, it is now possible to connect every network regardless of the technology they use:
Network with CGNATs
Multiple NATs
Cellular connections
Satellite connections
Networks with private IP addresses
Networks with duplicate IP addresses
Roqos' SASE solution using OmniVPN® does not use an overlay network. Instead, it directly connects all sites. Remote users are also allowed to access local resources as well cloud applications, while getting complete cybersecurity protection.
More ...