Zero Trust Network Access (ZTNA) for Today's Workforce
Provide cloud-based or on-prem, easy-to-use and powerful cybersecurity for today's workforce. Give your local and remote users role-based network access with BYOD, while blocking threats.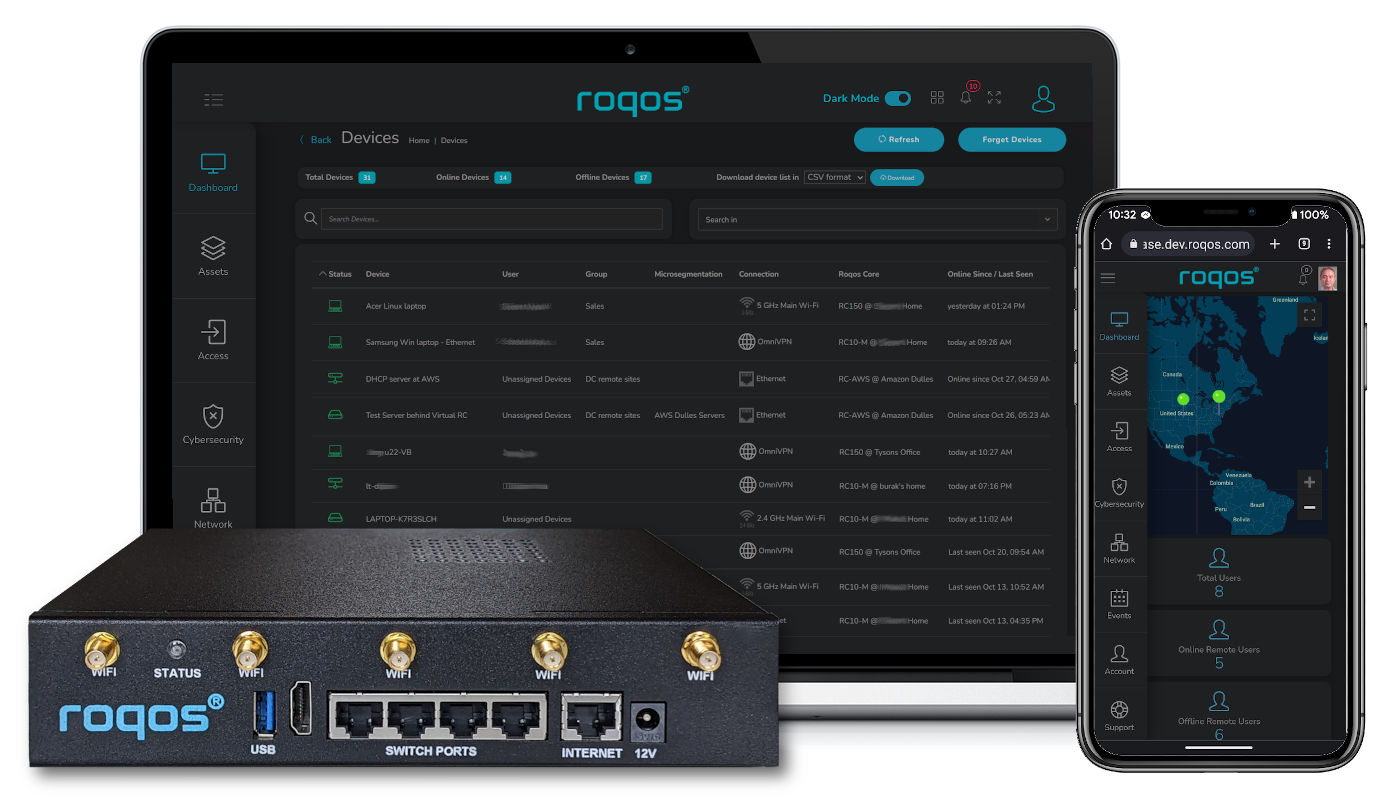 Companies with limited IT budgets and personnel can now get an enterprise grade cybersecurity with Roqos' easy-to-use comprehensive solutions.
Asset Discovery
Continuously scan your network to create inventory of your users and devices and to learn your attack surface.
Role-based Access Control With Schedules
Allow accessing local and remote resources with MFA and SSO (soon) based on user, group, device, location, and date/time.
SD-WAN With Multi-ISP and Cellular Connections
Redundant internet access with multiple ISP connections as well as internet access via cellular networks.
Almost Zero Touch Deployment & Provisioning
Set up and configure Roqos Core appliances remotely in minutes for maximum productivity.
Universal ZTNA
Grant access based on roles, schedules and locations using Zero Trust Network Access ( ZTNA ) for both local & remote users.
On-premise or Virtual Next-gen Firewall
Block unwanted and suspicious traffic and generate real-time alerts, while monitoring incoming and outgoing traffic.
Private SASE
Implement Roqos SASE in your datacenter to comply with your government and security practises without missing any features.
BYOD
Support Bring Your Own Device (BYOD) by allowing your employees to bring their devices with complete cybersecurity.
Multi-tenancy for MSP/MSSPs
Grow your customer base and increase your revenues with expandable, multi-tenant, easy-to-use Roqos solutions.